We have the largest assortment of fishing gear in the Kansai area of Japan! We have a extensive assortment of high quality fishing tackle made in Japan such as Daiwa ,Shimano and Gamakatsu. We support surf fishing,boat fishing,waterfront fishing, surf casting fishing, egiing(squid)fishing,octopus fishing, giant trevally fishing,carp fishing,large freshwater fish fishing, mountain stream fishing and sweetfish fishing. Also some Lure fishing such as black bass fishing, channidae(raigyo)fishing,catfish fishing,seabass fishing,rockfish fishing and scabbard fish(tachiuo) fishing. Our store is near by the Shinkansen Osaka Station,JR Osaka,Osaka(Itami)Air port and Kansai International Airport that has easy access,so please visit us at ICHIBAN Eight Group.
Store Information
We have the largest assortment of fishing gear in the south-central region of Japan.
We provide high quality and reliable brands of fishing gear made in Japan.
Such as Daiwa,Shimano and Gamakatsu, so you can shop for your gear with assurance at Fishing Eight,Fishing ICHIBAN and Lure ICHIBAN.
Convenient information on shopping and transportation is available at our web site.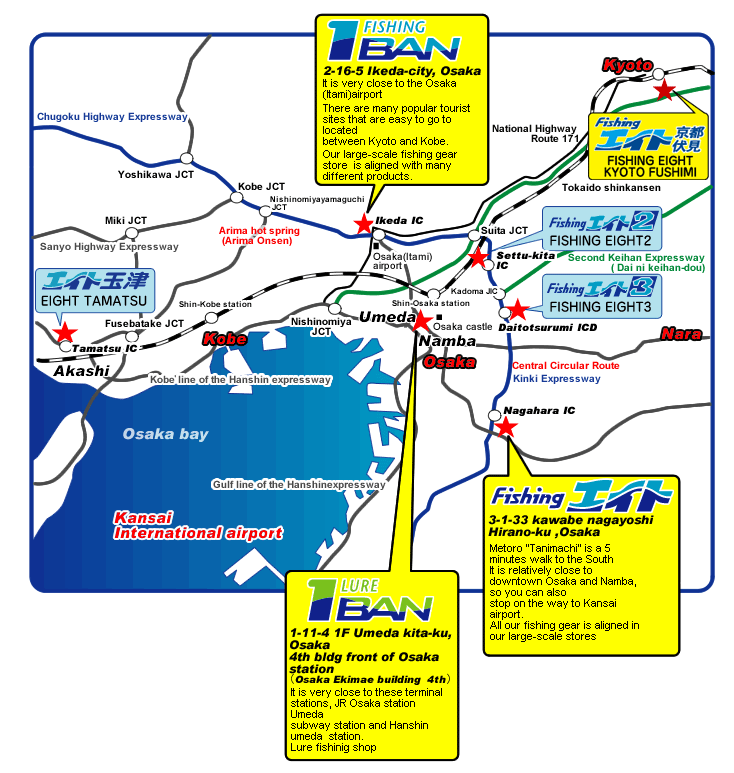 Telemarketing is a guide intended on targeting Japan. Please click here to see our list of available products.
Image 01

Image 02

Image 03

Image 04

Image 05

Image 06